For St. Patty's Day I had my older brother and his wife visit us in Colorado, I knew I had to surprise him with the delicious tradition of Corned Beef and Cabbage!
I have never made this dish before so I was excited to see how it would turn out, and anxious to learn a little more about its history. I love learning about where "traditional" dishes come from and the countries and people that made them hundreds of years ago and still make them today. The funny part about Corned beef and Cabbage..? It is actually not IRISH at all!
The term "corned beef" comes from the process of preparing the beef roast. It is brined and preserved with "corns of salt," or salt granules, so that it would last longer without worry of spoilage. However in Ireland, according to History.com, Pork was much cheaper and accessible for families to serve, not until Irish families began immigrating to America did they trade out the preserved pork for beef.. creating "corned beef." The inexpensive cabbage was added to the dish to create an easy meal for the Irish-American immigrants (Part of MY ancestry!)
So in honor our Irish-American ancestors here is a delicious recipe adaptation of Corned Beef and Cabbage. Healthy, flavorful, and perfect for ANY time of the year!!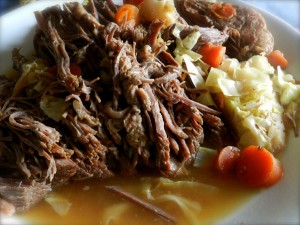 YUMM! My brother said it was maybe the best he had! and he has GREAT taste 😉
Servings : 5 Hungry man servings
Time: 11 Hours – But So Easy!
Ingredients:
4 lbs Corned Beef (I picked some up from Whole Foods)
2 Chopped Onions
8 Large Carrots
Stone-Ground Mustard – enough to thickly cover meat
1/4 cup Brown Sugar (dissolved with 1/4 cup hot water)
2 bottles Gluten-Free Beer, divided ( I used Shakparo)
8 ounces Vegetable Stock
1-2 cups water, divided
2 Heads Green Cabbage, chopped
Salt and Pepper to Taste
1) In large stockpot, cover bottom with Onions and Carrots, then place Corned Beef on top.
2) Rub a thick layer of Mustard on top of the Corned beef then pour in Brown Sugar Mixture, 1 bottle of Beer, Vegetable Stock, and 1 cup water. Cover and cook on low for 8 hours.
3)  Add Chopped Cabbage into the pot, pour in second Beer, 1 more cup of water if needed,  season cabbage with salt and pepper. Cook for an additional 2 hours, stirring cabbage occasionally.
4) Season Cabbage before serving if necessary, Serve together in a big bowl and watch how easy the Beef shreds apart perfectly!
5) Thank your Irish-American Ancestors for this incredible, easy, one pot meal!