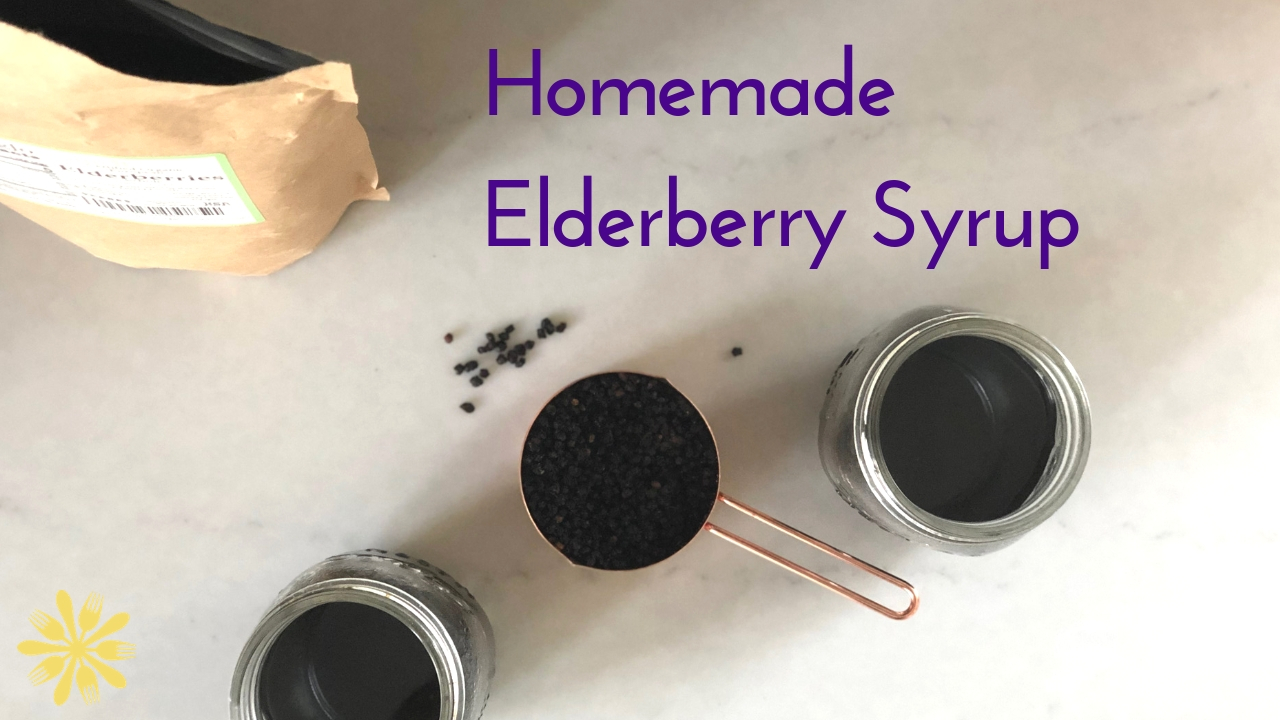 Today we are making Elderberry syrup! Elderberry syrup has been shown to be incredibly beneficial for your immune system and fighting cold and flu viruses.
Elderberries are powerful little purple berries that are high in vitamins and minerals and when heat extracted can be taken by young and old to fight sickness.
A research-backed supplement
Research has shown that elderberry syrup, when taken at first signs of sickness, can help fight viral replication in your body. Meaning less severe symptoms and less days of sickness. It first gained attention after the H1N1 flu outbreak when a study helped show the berries ability to effectively inhibit the strain of the flu (Roschek, et.al., 2009).
In 2016, another study released showing that the travelers evaluated that were taking the supplement had less days of sickness and reported less severe of symptoms compared to the placebo group. The elderberry group reported a total of 57 days of sickness compared to the 117 days in the placebo group. And when evaluating their symptoms on a rating scale, they experienced a severity of 247 versus the 583 among placebo group (Tiralongo, et.al., 2016).
In another study, 60 Norwegian patients were given elderberry syrup within the first 48 hours of developing flu symptoms and  were over the flu virus within an average of 4 fewer days than those in the placebo group. This study showed its effectiveness for multiple strains of the virus, both type A and B influenza (Zakay-Rones, et al, 2004).
And there are many more studies showing how powerful elderberry. To read more about this awesome supplement please visit this referenced site The Franklin institute.
An Easy to Take Supplement
When made with an acceptable sweetener, this supplement is easy to take by both young and old. You can give it to babies in a syringe and older children and adults through a gummy or syrup.
There is some thought that elderberries effects on the immune system may negatively impact those with an autoimmune condition, so please take with caution. As always, please consult your physician before taking or giving your family any supplement.
Recommendations vary on how to take but here are some general guidelines:
At first sign of sickness:
Adults: 1-3 tsp every 3 waking hours
Children: 1/4-1 tsp every 3 waking hours
Prevention:
Adults: 1/2-1 tsp every day
Children: 1/4-1/2 tsp every day
How to make at home
This is so easy and cost-effective to make at home, plus you have control over the ingredients and flavors.
Watch the video below for more information and please let me know how your syrup turns out!
Ingredients:
100 grams of dried organic elderberries
1-2 quarts of distilled or filtered water
1/4 tsp ginger, cinnamon, cloves, thyme and rosemary (optional)
1.5 cups sweetener (maple syrup, raw honey or other syrup)
Directions:
measure out ingredients and place everything except for sweetener in a large saucepan on stove over medium heat
bring to a low boil and continue to simmer, uncovered, for 45-60 minutes, liquid will reduce by about half
remove from heat and strain liquid. you want to have about 2 cups here, so if you need to add extra water to bring up the measurement you can, alternatively, simmer longer if you need to bring down the amount of liquid.
place liquid back on stove and add sweetener, bring to a simmer and cook uncovered for another 10-30 minutes until mixture thickens
remove from heat and store in jars.
Notes:
Will last several weeks in the refrigerator, but can also freeze if you are making a bulk batch
Stir well before each serving