Thanksgiving is coming up in a few days and I always like to get a head start. Having a few dishes you can make ahead can make the day of so much more enjoyable when you are not totally overwhelmed with everything to cook. And if it was up to me there would be quite the feast to serve! Alas, this year with a new baby I am easing up a bit on what I will prepare to make sure I can also just enjoy my time on his first holiday.
Sweet potatoes are one of my favorite veggies, many may consider it a Thanksgiving dish, but in my household it is more an everyday dish! I like the idea of a sweeter dish to compliment the savory spread of the turkey, stuffing and gravy, however the typical sweet potato casserole is a bit too heavy and a bit too much like a dessert to me.
So I have created a beautiful sweet potato casserole with a bit of a twist. The sweet potatoes are layered together with slices of apple to lend a sweet autumn feel and then baked with a cinnamon, coconut dressing and topped with a crunchy crumble.
Show your guests something unique this year that is sure to please!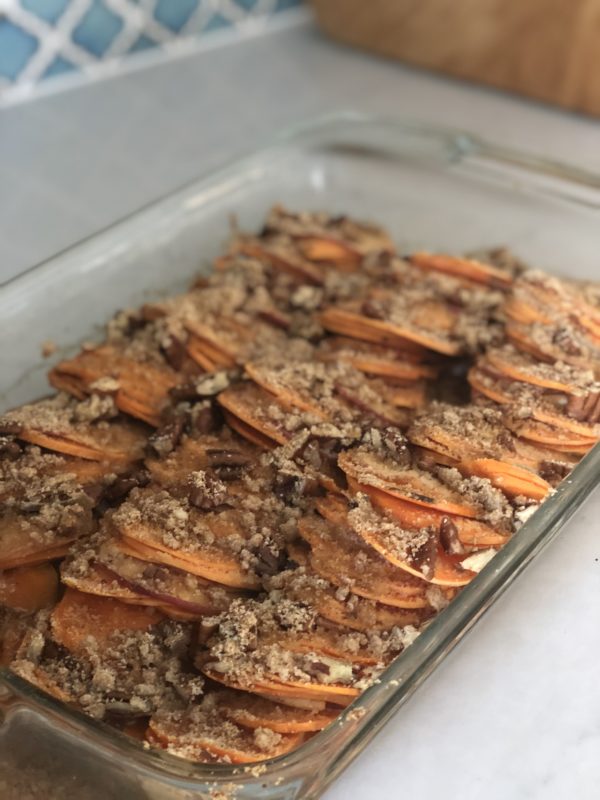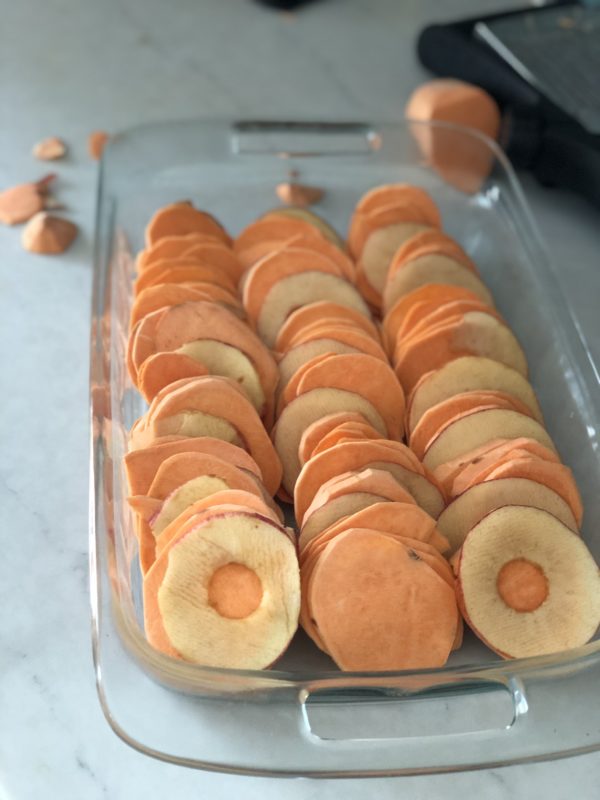 Layered Sweet Potato Casserole - paleo, gluten-free, and nut-free option
Ingredients:
3 medium sweet potatoes, sliced thinly (about 1/8 in on a mandolin)
1 apple, cored and sliced thinly
1/2 can coconut milk
1 tbsp maple syrup
1 tsp vanilla extract
1 tbsp cinnamon
1/4 tsp sea salt
1 tbsp ghee or coconut oil
1 tbsp sweet potato flour (or gluten-free flour)
Topping:
1/2 cup crushed pecans
1/2 cup almond flour (for nut-free simply use 1/2 cup gf-flour)
1 tbsp ghee
2 tbsp coconut sugar
Instructions:
Preheat oven to 375 degrees
layer sweet potato slices and apple slices in casserole dish, I had an apple slice every couple inches
On stovetop, heat remaining ingredients, stir well
Pour over layers, open up the slices a bit so that the liquid can get in between
Mix topping ingredients in small bowl and sprinkle over the casserole
Cover dish with tin foil and bake for 40 minutes.
Remove foil and continue baking for 10 more minutes.
At this point you can either bake a bit longer to brown the topping or remove from oven to store in fridge or freezer until the day of serving. Before servings, warm and brown in oven for about 7-10 minutes.