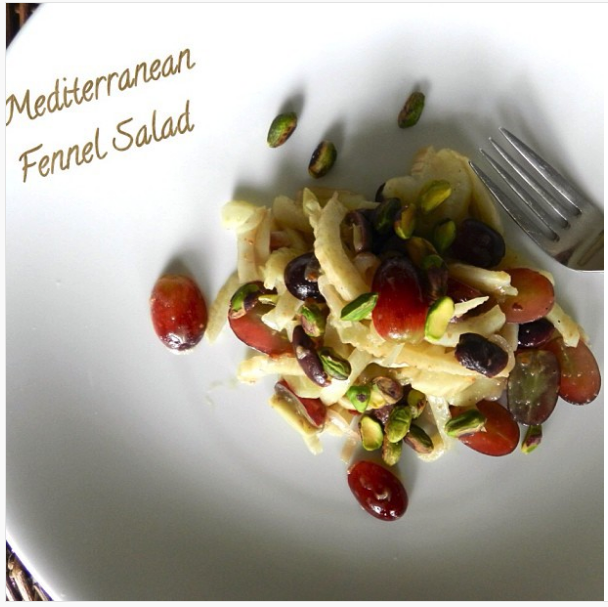 I had quite a bit of fun with this dish.. brainstorming unique ingredients from the Mediterranean that could be brought together in a scrumptious salad.  The checkout girl at Whole Foods said it sounded very "exotic".. so we can call this an Exotic Mediterranean Fennel Salad 🙂
Made up with fresh fennel, juicy grapes, olives, shallots and pistachios this simple recipe is sure to please all portions of your taste buds while giving you nutrients to boot!
After I had created this recipe I realized that not everyone knows that fennel is not only seed used in sausages and sauces but it is actually a vegetable! When I displayed the dish both my brother and my fiance were wondering were the little seeds were to make it a "fennel" salad... not realizing that the white crisp-tender vegetable making up the main body of the dish was fennel!!
Fennel has been an important piece of culinary history in many parts of Europe, especially Italy and France. The Greeks even believed that Fennel had a powerful relationship with Dionysus, the Greek god of food and wine, that the vegetable was a tool in passing down knowledge from the Gods to men. (read more nutritional information about fennel here)
Today Fennel is more widely known for its unique sweet licorice taste and crunchy texture. Perfect fresh, braised, grilled.. in many ways you can imagine! High in Vitamin C, fiber and Potassium, it is perfect for reducing inflammation and fighting free radicals.
With the addition of cancer preventing Olives , and Pistachios supplying copper and manganese, you have many different nutritional bases covered.
You have to give this "exotic" salad a try!
Mediterranean Fennel Salad
Serves: 5 side dish portions
Ingredients
1 medium Shallot, sliced thinly
2 Tbsp Olive Oil, divided
5 small/med Fennel Bulbs, cored and sliced (see below)
2 cups sliced Red Grapes
1 cup sliced Kalamata Olives
1/2 cup toasted Pistachios
Dressing
1/3 cup Red Wine Vinegar
1/4 cup Olive Oil
5 Dates
1/3 cup Water
1 tsp Salt
1 tsp Ground Pepper
Add all the ingredients to a food processor and blend until smooth.
1) In a medium stockpot add 1 tbsp Olive Oil, add Shallots and heat on Low for 10 minutes, stirring occasionally.
2) Meanwhile, Prepare and slice the rest of your ingredients.. Lucky for you, here are some instructions to prepare Fennel!
Preparing the Fennel
1) Slice the halves thinly up to wear the stems start to turn green, wash, and you are ready to go!
3) After the Shallots are done, add the sliced Fennel and 1 Tbsp Olive Oil to the pot, stir well, cover with lid and let cook for 3 min. on low. Turn off Heat and let sit covered for 10 more minutes.
4) Meanwhile, Prepare the Dressing.
5) In a big bowl add the Fennel and Shallot mixture, Grapes, Olives and Dressing, Stir until well combined and evenly dressed.
6) Chill in Fridge for 10 minutes until cooled. (May be served warm but I prefer cool!)
7) Top with Pistachios and SERVE!!
Hope you Enjoy this beautiful, unique, and Delicious Salad!