Wanting to create a romantic Friday night dinner without having to muss up your makeup and end up smelling like fish the whole dinner? Well Pan-Fried Salmon is your easy answer! In just a few minutes and couple steps you have a gourmet meal that is sure to impress.
Salmon is one of my favorite proteins and a delicious way to bump up your beneficial Fatty Acids intake. Beautifully browned, crispy skin and paired with a mild Mustard and Tarragon sauce and some roasted veggies and VOILA you have a healthy and nutritious meal that wont make you feel too full to cuddle afterwards! 😉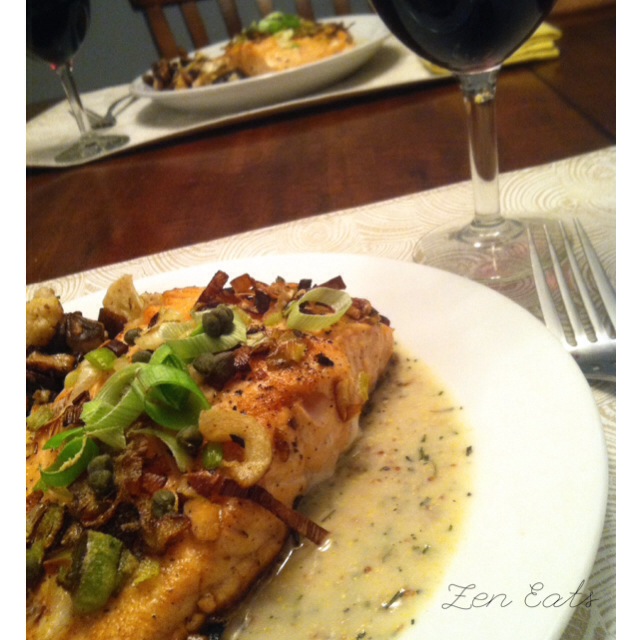 Pan-Fried Salmon
Serves 2:
12 ounces of Salmon, de-boned (you can pick whichever type is your favorite or on sale)
1 tsp Granulated Garlic or Garlic Powder
1 tsp Onion Powder
1 tsp Salt
Couple turns of freshly ground pepper
3 tablespoons Coconut Oil (add more if your pan dries out)
1/2 cup sliced Leeks
1/2 Tbsp capers
1) Preheat oven to 350 degrees
2) Season Salmon with the garlic, onion powder, salt and pepper and set aside
3) Heat a large cast-iron pan to Medium heat
4) When hot, add the Coconut oil and evenly cover the bottom of the pan
5) Gently place the Salmon in the pan with the skin side down and cook until the skin is crispy and brown (~ 4-5 minutes)
6) Flip over the Salmon and add in leeks. Fry the fleshy side of the fish and the leeks until they are lightly browned and crispy (~ 3-4 minutes)
7) Remove fish from pan and place on cookie sheet, top with leeks and capers and bake in oven until cooked thoroughly (~5-7 minutes, depending on thickness
Mustard Tarragon Cream Sauce
3/4 cup coconut milk, full fat
1 tsp Tarragon
1 Tbsp Mustard (stone-ground or dijon)
salt and pepper to taste
1) While Salmon is baking combine ingredients in small saute pan and heat on medium-high until coconut milk reduces by half.
Serve over Salmon and enjoy immediately!
There you have it! An easy, beautiful and healthy meal for your Friday night date. Hard to mess up, simple to enjoy 🙂