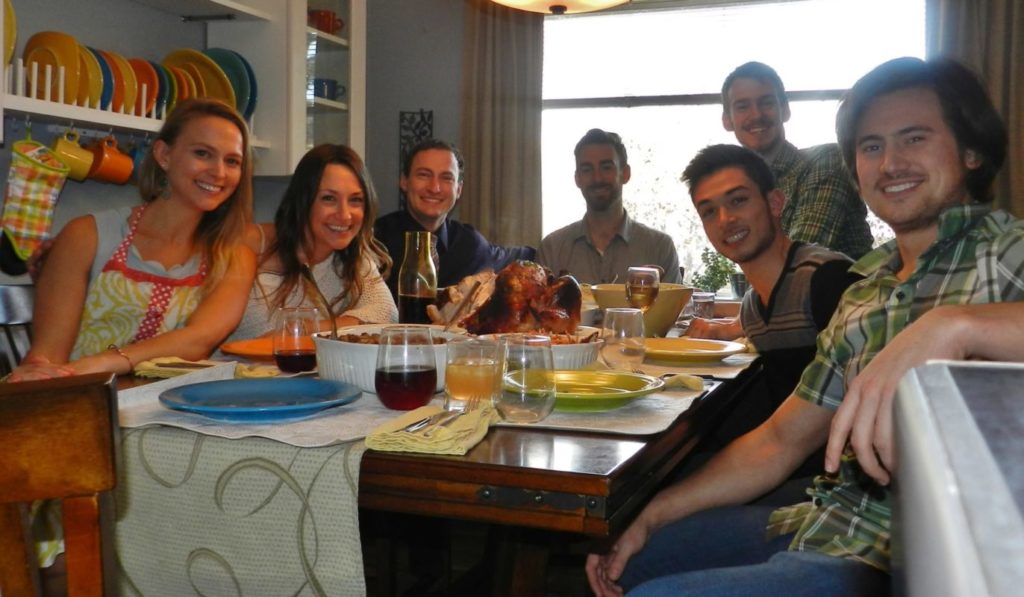 On the day of Thanksgiving before dinner, I did not even know what to do with myself. I spent the week before the big day preparing dishes in the evening so that on the day of I would be able to spend my time with our family and guests.. Well, I succeeded,but not running around the kitchen was something quite new for me, like I was forgetting something. So I poured a glass of wine and tried to relax into the free time I prepared for myself.
As you would guess in my house, this was a Gluten-free/Paleo Holiday. Healthier versions of classic dishes were served but was still just as, well actually more than, delicious and comforting as the standard versions. We were still able to eat more than our fill but were not left in digestive distress and food comas for the rest of the day, allowing us to enjoy games and conversations late into the night.
It was such a relief to be able to pull out the food and just warm in the oven while the turkey was cooking. The carrot cake, once again made this favorite recipe of mine, was easy to make a couple weeks ahead and freeze. Freezing cake can actually help with the texture, when it freezes it forms ice crystals that when defrosted, create a softer, moister cake. With this cake I served homemade ice cream, a vanilla cocao and pumpkin spice!
The stuffing was also freezable, and the green beans, cranberry jelly, mash, and salad were all able to be made within 2-3 days to be easily pulled out and heated. If you often stress out the day of a Holiday, give this pre-planning a try! You are able to stay out of the hot, sweaty kitchen more and socialize with your guests.
Here are some more details from the day with the full Thanksgiving Menu:)
My favorite part of the menu was actually this appetizer I created! It was a Butternut Squash Ravioli with Raw Ricotta "Cheese" and Pesto. It was perfectly light and creamy, the ricotta even fooled some of my guests into thinking it was real cheese! I would say that's a win;)
These Ravioli could be easily created with a variety of vegetables as the "pasta" part and any flavor of filling your imagination can come up with! I think I may even be making these this week for dinner with a cheesy-flavored beef filing and my nightshade-free marinara sauce.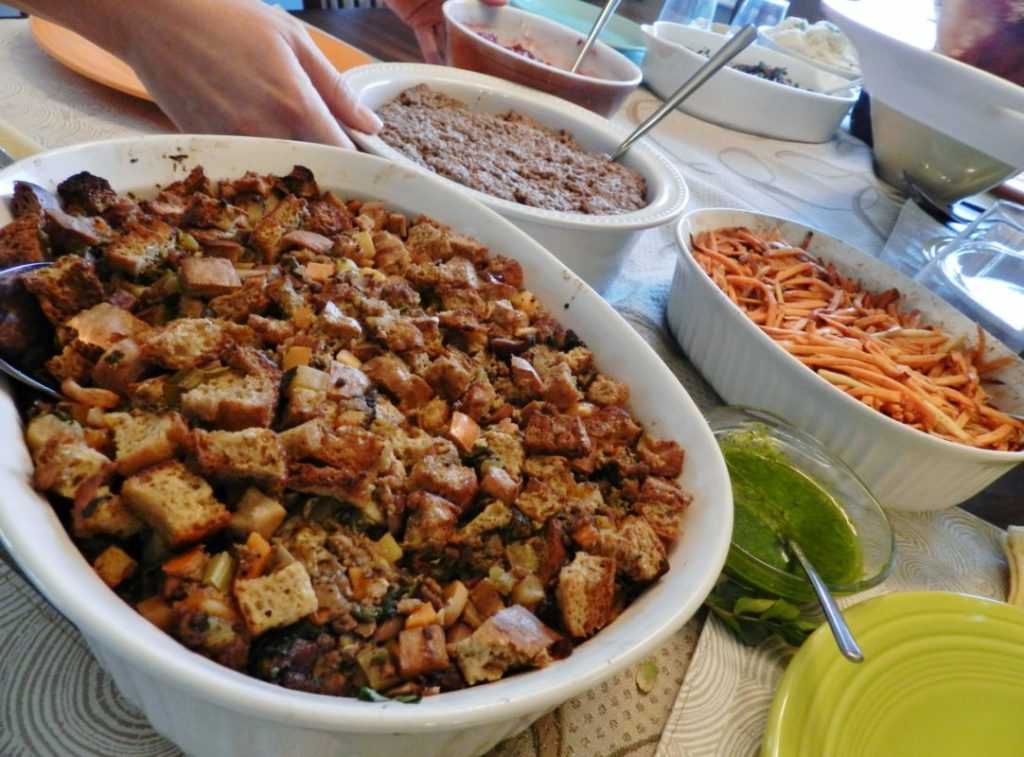 The stuffing was created with Paleo bread I prepared a few days ahead, the bread was diced and thrown into a mixture of celery, carrots, rutabaga, leeks, ground pork, persimmons, currants and chestnuts. It was spiced with cinnamon, clove, and herbs and then I whisked a sauce of stock and egg and poured over the stuffing to hold it together and baked.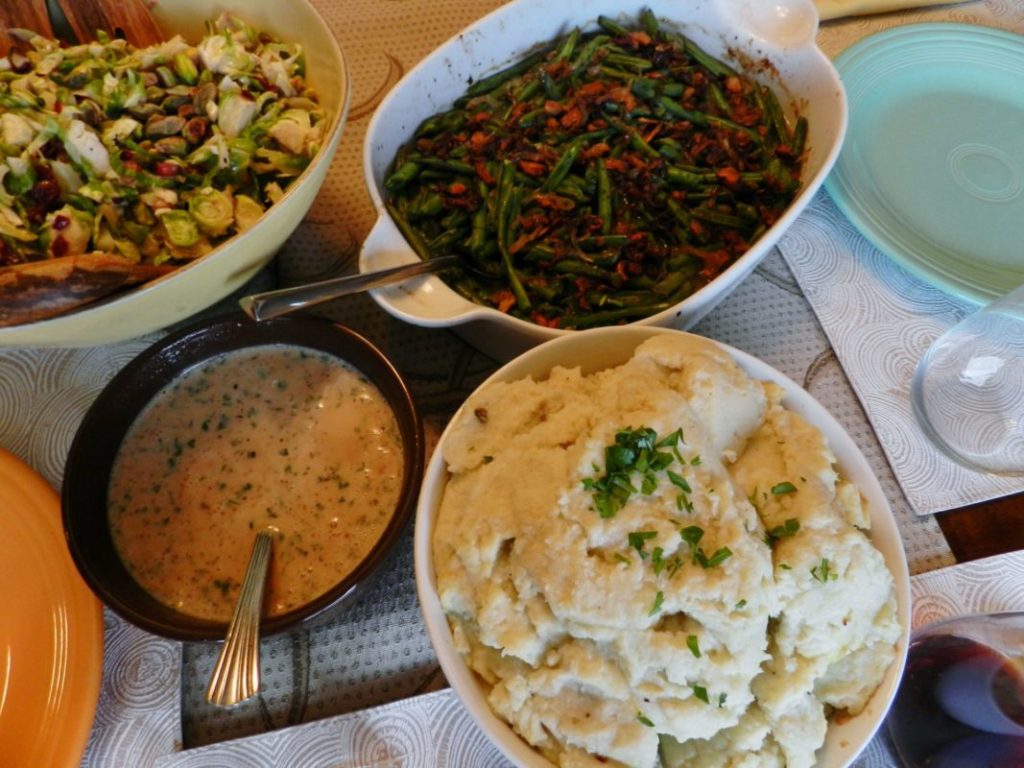 A Side of Mashed Cauli with a touch of mashed parsnip and plenty of roasted garlic, served with turkey gravy. A much lighter and way more flavorful alternative to mashed potatoes… I don't think I would ever want to go back to mashed potatoes after having a perfectly prepared dish of mashed cauliflower.
For green bean casserole, I actually pulled out a container of my caramelized onion and mushroom dip that I sell, added a bit of stock and arrowroot to thicken it and poured it over fresh cut green beans. It was baked then topped with crispy shallots and Chanterelle .
To add a little raw nutrition into the meal I served a chopped brussels sprouts salad with fennel, oranges, cranberries, pistachios and honey-mustard vinaigrette.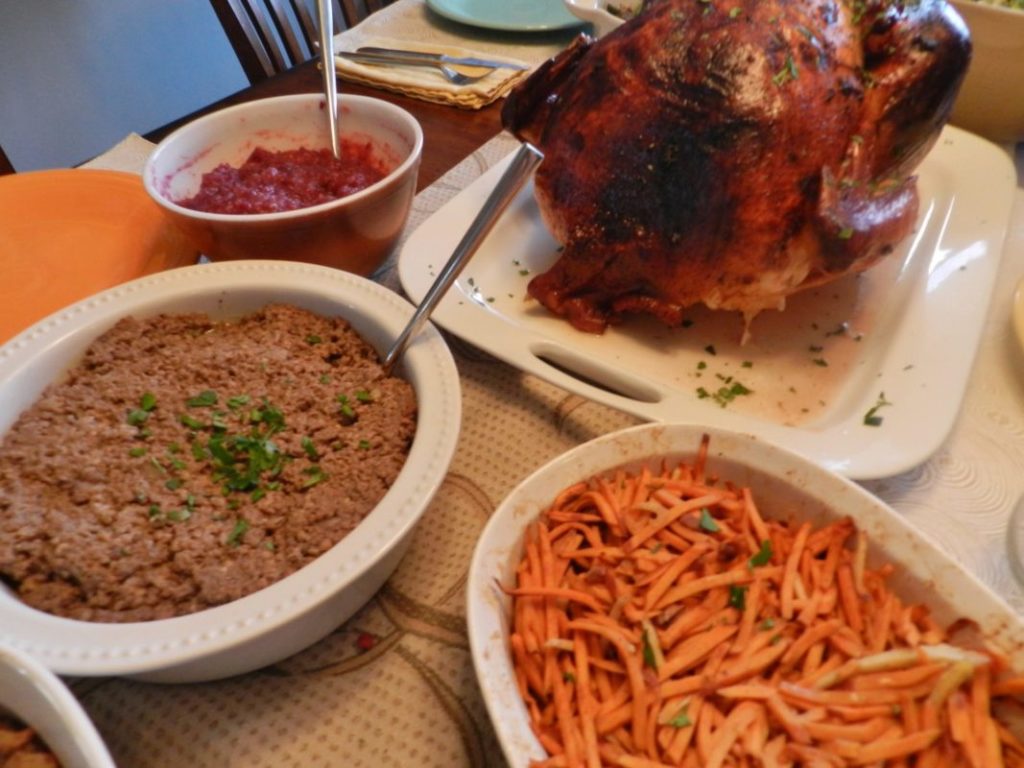 Shredded sweet potato and parsnip casserole, with coconut milk, cinnamon and maple syrup. And my sister-in-law's traditional French stuffing.
In the back there is a cranberry jelly, made with fresh cranberries, pomegranate and cranberry juice, orange zest and grass-fed gelatin.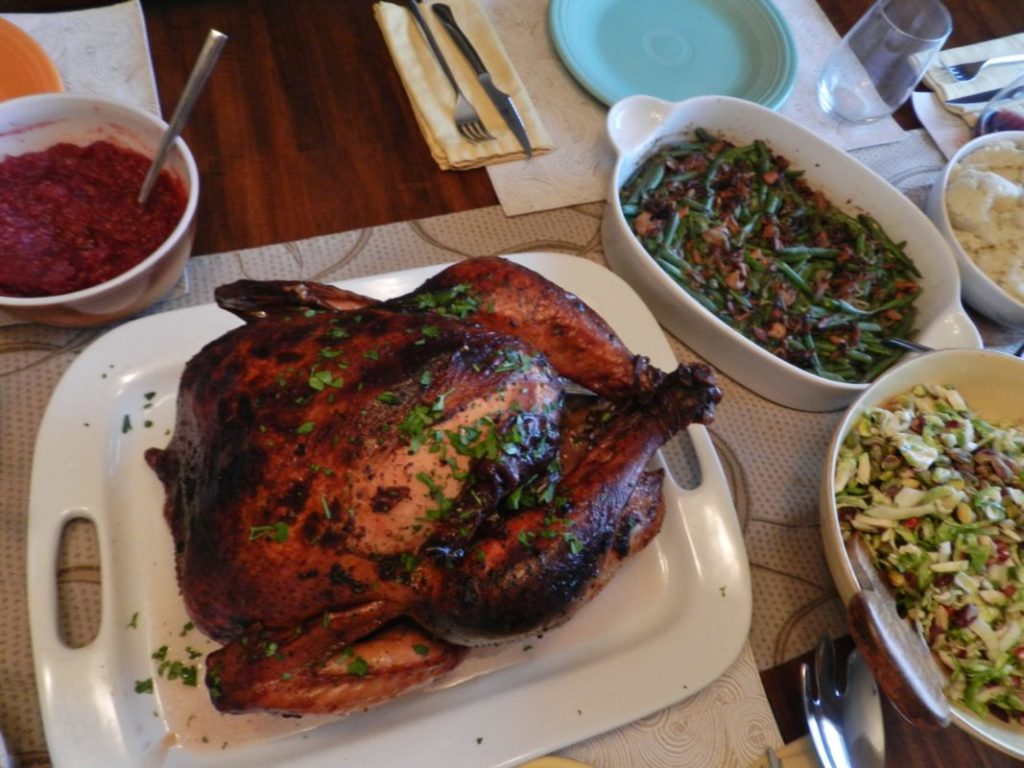 Last but not least, the gigantic turkey ( yea, I got way too much, lol) I tried a new method this year and made a Prosciutto and herb stuffed Turkey glazed with duck fat. I turned out quite tasty… however, a little more brown than I would like. We had just installed a new gas stove a couple weeks earlier so getting used to that power coming from an old electric oven has been exciting but a little adjustment at home.
A little tip, if you are serving a bird with a fun crust or crispy skin, first cut the entire breast from the bone and then make slices horizontally. This provides everyone with a taste of that delicious skin.
Last but not least a two layer Carrot cake with the homemade ice cream and a fun raw dessert that my sister-in-law provided. Unfortunately for my photo collection but not for my memories I was a little too into the party at that point to put the time into a good photo 😉 So you will have to use your imagine on the dessert.
We had an incredible Paleo, Gluten-free, Nutritious Thanksgiving, Let me know how yours went and if you came up with some fun twists on classic dishes 🙂